Testimonials

The 6 weeks Belmars Muay Thai & circuit course was the BEST!!! I have tried other schools in the past but they never had me so motivated to learn & get in shape. The beginners course trains your mind & body and prepares you for a better healthy more active life, even with a 3yr old.


This course is full of instruction. I really feel that I have a beginners understanding of Muay Thai and it is exciting to see the techniques we´ve learned when I see a professional fight. I definitely am in better shape, and can see a difference in my body.

Jeanne Neivert
- Pastry Chef

Over the 6 weeks not only did I feel better about myself but better about my surrounding. I felt more energetic throughout the day. I slept better and just overall felt great. If you are looking to get in shape or just better yourself I totally recommend one of Peters classes.

David Dicairano
- Union Iron Worker

Absolutely the Best fitness program available. An intense yet positive program that provokes the best results from all participants. Peter and his entire team are a pleasure and I would highly recommend this to everyone.

Angela Dotson Giardini
- Vice President Client and Business Development

There are no words to describe how fabulous this gym is. The instructors are so skillful, talented & patience. The gym is very empowering. I work out all the time, but this workout is beyond anything I experience. I will absolutely continue taking classes. The workout really kick ass!

Sherri Hsiu
- Dental Hygienist

Great class, where you learn to keep yourself fit, and the training makes boot camp look like a walk in the park.

Andres Bella
- Electronic Engineer
Upcoming Events
Beginners Course

5-weeks Beginners Muay Thai Kickboxing & Fitness Course - starts
October 17th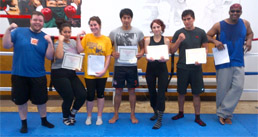 Contact Us
Belmars
5 Prospect Avenue,
White Plains,
Westchester N.Y. 10607
Email:
admin@belmars.com
Phone:
914-426-0359
Enter your location for directions to Belmars:
Latest Blog Posts
Yoga for Athletes – All Level


Mark your calendars for our first class for the fall! It will be held on Sunday, September 11th, 2016 at 11:00am and every Sunday after that. Please remember:  We have mats and blocks on hand. This class focuses on strengthening the core muscles, building endurance, improving flexibility, improving balance and mental focus.  Students will be guided […]

Labor Day 2016


Belmars will be CLOSED on Labor Day Monday, September 5th, 2016 in observance of the Labor Day Holiday. We wish everyone a safe and enjoyable Labor Day Holiday.
Get The Best Out of Yourself
Stressed?
Work getting you down?
Need that anger management release?
Need to shed some pounds?
Simply want to tone up and get fit?
Looking to get the best out of yourself?
Solution: Belmars
Belmars Award Winning Programs Could Be For You!
When you train at Belmars we are committed to your personal development.
We do things a little different here - a little unique.

Come See What's Been Missing From Your Training!
Our Promise to You
With our unique programs, drills and circuits we will:
Get you in the best shape of your life
Have you feeling more confident and empowered
Improve your flexibility, co-ordination and endurance
Do wonders for your mind, body and spirit
Get the best out of you
"A Journey of a Thousand Miles Begins with the First Step"
Serving Westchester County and the Bronx areas of New York